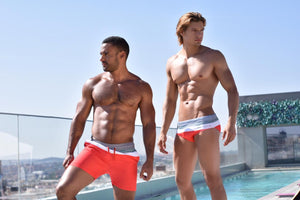 OUTFAIR.COM PUTTING MORE GREEN IN THE RAINBOW
Andres Vásquez 
CEO 
OUTFAIR.com
For more than five years, GAYHILLS has changed the online shopping experience by including social responsibility and equality as core values. After successfully distributing multiple brands across various websites, Gayhills launched OUTFair.com in early 2019. This marketplace of LGBTI-Owned brands and registered International Diversity Suppliers by the NGLCC* is currently the only one of its kind.
Today it´s easy to open a website on your phone and find thousands of options of the same type of product. All with varying quality and price, most with no guarantee as to the source of the materials or labor. Outfair.com is changing the game by not only offering the best quality products from around the world at fair prices, they're also selling products produced exclusively by LGBTI owned businesses.
"The main mission of Outfair.com is to contribute to a better world by supporting the economic empowerment of the LGBTI community, because an economically independent person is less vulnerable to discrimination." said his CEO, Andrés Vásquez
Currently, OUTFAIR.com sells and ships six LGBTI-Owned brands: ESTEVEZ Premium Beachwear, Battysta, Indecent Exposure, JCastell Designs, MACHO Underwear, and a new namesake line - OUTFAIR Luxury Beachwear. Other brands will be added soon, and OUTfair encourages any and all LGBTI business owners to contact them if they are interested in selling their products on the posh new website. The requirements to sell on OUTfair are simple and strict: have original designs, have great quality, have enough products to ship on time, and most importantly, have an owner who identifies as LGBTI.
 By selling all brands under the same banner, OUTfair is able to offer free two to three-day shipping on all in-stock products. This also allows to give the best possible customer experience.
OUTfair is also partnering with another LGBTI business pioneer by opening their first brick and mortar store inside the first AXEL Hotel in the United States. AXEL, the largest gay hotel group in the world, is opening their new location this month on South Beach. In addition to supplying the uniforms for the hotel, Outfair will be present in the lobby to help any of those guests who forgot to bring a bathing suit.
OUTfair seeks to make a major impact on the shopping landscape in an era of social consciousness. While some governments or organizations may seek to erode LGBTI rights, they cannot take away the power of a dollar.
-------------------------------
*NGLCC - National LGBT Chamber of Commerce
---