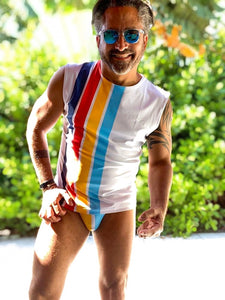 Smile with your matching swimsuit
Smile, smile, smile at your mind as often as possible, as our friend @muziklvr0, his smile makes the world brighter.
Swimsuit & Tank Top: #KBAYO available at OUTFAIR.com
- Free Same-day Shipping on ALL orderd
- Complementary face mask
- Shop & Ship today, Pay Later selecting any of our financial options at checkout #AfterPay, #Sezzle or #Klarna.
.
.
.
.
.
#gaystagram #gaypride #malemodel #gaynyc #gay #gaymiami #gayquebec #mensunderwear #gayparty #gaybears #gayginger #gayusa #gaybear #gaydude #gaycanada #growlr #fireislandpines #gaytoronto #andrewchristian #atlantiscruise #gayaussie #bearcruise #gaytravel #gaycruise #underwearexpert #atlantisevents
---