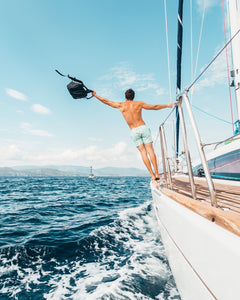 10 BEST GAY BEACHES IN THE WORLD
GREAT GAY-FRIENDLY SEASHORES FOR FUN IN THE SUN THIS SUMMER.
BY DANIEL AVERY 
Gay beaches are a popular vacation destination—and not just for LGBT travelers. And while there are gay-friendly seasides all across the globe, several rise to the top—whether because of their sheer beauty, their unique character or the crowd they draw.
Below, check out our picks for the world's best gay beaches.
10. Sebastian Street Beach
Ft. Lauderdale, Florida
Fort Lauderdale has eclipsed Miami as Florida's go-to gay destination and Sebastian Street Beach, between Sunrise Boulevard and Las Olas Boulevard, definitely flies the rainbow flag. Mostly popular with men, it's close to the bars, restaurants and nightclubs of Wilton Manors, as well as a plethora of gay hotels and resorts.
9. Playita Beach

Manuel Antonio, Costa Rica
Also known as Playa Dulce Vida, this small stretch attracts a mixed crowd. It can be reached by climbing over the rocks north of Playa Espadilla, but avoid it in the hours before and after high tide, when access is blocked.
Note: while Playita used to be the playground of nude sunbathers, increased gentrification and luxury hotels has made going swimsuit-free a no-no.
8. Will Rogers State Beach

Los Angeles, California
Lovingly nicknamed "Ginger Rogers Beach," the sizable section of beachfront near lifeguard tower 18 in Pacific Palisades is one of the most famous gay beaches in the U.S. It's well-kept, easily accessible and offers volleyball courts, gymnastics equipment and access to numerous bike and hiking trails.
7. Farme de Amoedo

Rio, Brazil
6. North Bondi Beach
Sydney, Australia
Just one of several gay beaches in Sydney, North Bondi is popular with locals looking to ditch the tourists. Expect lots of Adonises in skimpy budgie smugglers (Speedos)—or less.
5. Playa De La Bassa Rodona
Sitges, Spain
Proximity to Barcelona means makes Playa De la Bassa Rodona a popular queer hotspot yearround. (The megapopular Sitges Gay Carnival is held in February.) The peak season, though, runs from early July to early October.
To find the gay section of the beach, follow the crowds of buff hombres to the third beach zone, right near Hotel Calipolis. Beers and cocktails are available throughout the day, with a nearby picnic area perfect for a lunch break.
4. Pines Beach
Fire Island, New York
Fire Island has been drawing LGBT New Yorkers for nearly a century. The island's two queer enclaves, the Pines and Cherry Grove, both have their fans—but the Pines score points for being quieter, less commercially developed and more architecturally interesting.
3.
Elia Beach
Mykonos, Greece
2. Playa Los Muertos
Puerto Vallarta, Mexico
One of the largest gay beaches in Latin America, Playa Los Muertos tops many best-of lists. It gets it's ghoulish name from the fact that the area was a cemetery before the graves were moved and the area redeveloped as a beach. Unsurprisingly, it's sometimes just referred to as "Blue Chairs," the name of a popular beachfront resort on the Los Muertos' southern end.
Thousands of queer sun worshippers descend on the area in winter—particularly around Christmas and New Years—soaking up the rays, the open-minded and friendly ambiance, and sparkling views of Banderas Bay. You might even spy a school of dolphins and whales.
When the sun goes down, head to one of the nightclubs just steps away in Zona Romantica, Puerto Vallarta's gayborhood.
1. Hilton Beach
Tel Aviv, Israel
This breathtaking clear-blue expanse gets its name from the Hilton hotel on its border, but the area has been a popular cruising spot since the 1950s. And Unlike a lot of gay beaches, its walking distance from the heart of the city. You'll meet guys from all over the world—some on vacation, some new transplants to the city, but all happy to strike up a conversation with a new friend. Fridays and Saturdays are the busiest days—for a more tranquil experience, hit the sand on a weekday.
In mid-June, Tel Aviv Pride, the only sanctioned Pride parade in the Middle East, sees more than a hundred thousand revelers marching down to the beach for live music, dancing, drinks and more. Sponsored by the local government, the event is completely free of corporate sponsors and anyone can join the parade when the spirit strikes them.
Get the best mens swimwear at OUTFAIR.com
Gay prides, gay parties, gay cruises, always with OUTFAIR.com
---